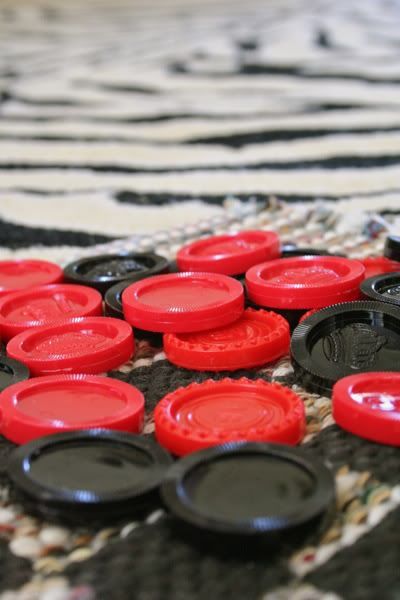 Another snow day today, thanks to yesterday's blizzard, and we are trying our best to stay occupied. We've made cookies and romped in the basement and eaten breakfast and lunch and danced to Alvin and the Chipmunks and Stevie Wonder and of course Beyonce, who is Matthew's favorite. Now I've gotten out a big bag of chess men and checkers and tiddlywinks and that Makin' Bacon game along with some very interesting marbles that I'm dying to photograph sometime. (I forgot about these particular marbles!)
The kids have dumped the bag out and are playing with all the stuff on the floor behind me. Alex narrates her play with such passion ... everything is talking to each other, and everything has a different voice. One of them is the Queen, and my daughter does a fairly good job of mocking a snooty English monarch. She's very good with impressions in general, which doesn't surprise me because Al does amazing caricatures of all sorts of people and animals, and I've rarely met a dialect I couldn't imitate pretty closely given a few hours of listening.
I'm sharing this photo and post via You Capture: Red, which is the brainchild of Beth at I Should Be Folding Laundry.