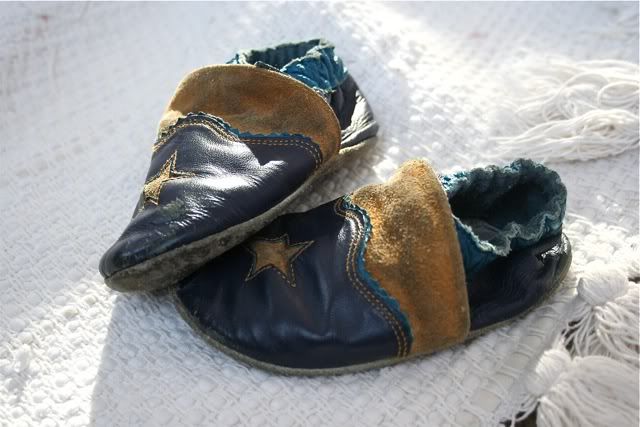 Last spring, a box of hand-me-downs arrived from a friend who has a little boy Bean's age. I left the box hiding in the back of Peabody's closet, and re-discovered it in the latter days of summer. As fall approached and the days grew cooler, I pulled out these soft-soled cowboy kicks to ease onto Peabody with a pair of light socks, thinking they'd smooth the transition to hard-soled shoes from his beloved
lop-lops
(flip-flops) that he wore every. single. day. all summer long.
Um... it's turned out to be a fairly long transition.
Peabody calls these his
'tar choos
, and now he wears
them
every. single. day. As you can see, they're extremely well-loved and well-worn, but still in pretty good shape and will last until
lop-lop
season rolls around again. Only other
choos
he'll allow on this feet these days are his snow boots, and lemme tell you, that involves no small amount of convincing.